So you're living in Australia and looking for more information on buying the cognitive enhancer modafinil. You're definitely in the right place to get it.
Australian laws regarding modafinil (and drugs in general) are a little confusing. There are several gray areas which, if nothing else, can be daunting to figure out. Which is why this guide is here to help.
The answers to all your questions, including the legality of, how and where to buy modafinil in Australia, and whether it's even worth doing so in the first place, are just a scroll of the page away.
Modafinil Use in Australia
Every year, worldwide interest in nootropics seems to reach a new level. That trend is very much true in Australia as well. And it's not hard to see why.
Who wouldn't want to increase their productivity and perform better at school or work? Or have the ability to stay super focused and on task, even after very little sleep?
What Is Modafinil
Of all nootropics, modafinil is arguably the most popular. The cognitive effects you experience after taking it are second to none (1). It's both an excellent study drug and work performance enhancer.
The most significant benefits of modafinil use you can expect to see include:
An increase in wakefulness and alertness
12 full hours of sharp focus and concentration, even in a sleep-deprived state
Strong motivation to achieve your tasks or goals
Better overall cognitive function, including memory, executive functions, verbal fluency, and situational awareness
Modafinil is also a very safe substance (2), with few side effects and no concerns around addiction (3). These are yet more reasons for its popularity.
But, just because it's beneficial, safe, and popular, doesn't mean using it is not controversial.
In Australia, and indeed pretty much every other country in the world, modafinil is a prescription drug officially used for the treatment of narcolepsy (4), work shift disorder (5), and sleep apnea (6). And the laws around getting your hands on it are pretty limiting.
Any Australian resident looking to buy modafinil has two choices. You can get a prescription from your doctor and get the drug from your local chemist or pharmacy, or you can buy it online.
As long as you know how to go about it, both are viable options, and both will be discussed a little further down this guide.
Modafinil Brand Names in Australia
With a doctor's prescription, you can buy modafinil at any chemist or pharmacy where drugs are sold.
The brand name product most commonly available in Australia is Modavigil. It's manufactured by a large multination company called Teva Pharmaceuticals.
Though rare, you may also find modafinil sold under the brand names Provigil or Alertec. Both were initially made by US-based pharmaceutical company Cephalon who, in 2011, was acquired by Teva.
Even though Cephalon no longer exists, these two modafinil brand names remain in use in Australia.
Generic Modafinil and Armodafinil Brands
If you choose to buy modafinil in Australia online, which is something you can do without a doctor's prescription, you'll typically be purchasing a generic version of the drug. In every respect, these work as well as the brand names, with the one added the advantage of being much cheaper.
Here is the list of generic modafinil and armodafinil brands (the latter being a slightly more potent version of modafinil) you can expect to run into:
| | | |
| --- | --- | --- |
| Manufacturer | Modafinil | Armodafinil |
| Centurian Labs | Vilafinil | – |
| HAB Pharmaceuticals | Modvigil | Artvigil |
| Healing Pharmaceuticals | Modaheal | – |
| Sun Pharmaceuticals | Modalert | Waklert |
| Sunrise Pharmaceuticals | Modafresh | – |
Currently, Modalert and Waklert are the most popular brands, followed by Modvigil and Artvigil.
Is Modafinil Legal in Australia
In Australia, every drug ranging from Ibuprofen to heroin is classified by the Therapeutic Goods Act (TGA).
The TGA categorizes all substances into several groups based on how addictive and dangerous they are. This classification system is called drug scheduling.
Australia's Drug Scheduling System
Currently, the TGA categorizes modafinil as Schedule 4, which means there are a few limitations any Australian looking to buy it will have to work with.
You can take a look at the Australian Government's Poison Standards legislation for a full overview of the drug schedules and what substances each contains. Here's also a quick overview:
Schedule 1
Not currently in use.
Schedule 2 (Pharmacy Medicine)
Schedule 2 drugs are generally considered very safe but are available only from pharmacies (though not necessarily dispensed by pharmacists). The list includes substances like non-sedating antihistamines and pain medication like Ibuprofen.
Schedule 3 (Pharmacist Only Medicine)
Drugs classified as Schedule 3 are also considered very safe but can only be sold by a registered pharmacist. These are substances the Australian government likes to keep tabs on and know who purchased them. Schedule 3 includes the likes of asthma medication and codeine.
Schedule 4 (Prescription Only Medicine)
Anything categorized as Schedule 4 is a prescription only medication. These are drugs that need to be monitored to either ensure correct dosages are used and because they are more prone to abuse or addiction.
Schedule 4 is where you will find modafinil.
Schedule 5 (Caution)
Schedule 5 substances are ones which are potentially dangerous to humans, even at low dosages. Compounds like pesticides, methanol, and select heavy metals fall into this category.
Schedule 6 (Poison)
Anything the TGA classifies as a Schedule 6 is considered poison. Australia requires anyone selling or storing these substances to meet stringent requirements before getting permission to do so. Examples of Schedule 6 compounds include insecticides or manufacturing additives like barium salts.
Schedule 7 (Dangerous Poison)
Anything that's Schedule 7 is generally not sold to the public. These are dangerous poisons and drugs that require special consideration and permission from the TGA before they can be bought or used in Australia. Schedule 7 mostly includes pesticides and manufacturing additives.
Schedule 8 (Controlled Drug)
Schedule 8 medications are tightly controlled and monitored by Australian authorities and need a special license to dispense. They require a doctor's prescription to buy but, unlike Schedule 4 compounds, are also illegal to own without one. Examples of what's considered a Schedule 8 include amphetamines and morphine.
Schedule 9 (Prohibited Substance)
Drugs listed as Schedule 9 are prohibited and cannot be legally bought or sold in Australia. Common street drugs like marijuana, heroin, and cocaine all fall into this category.
Why Is Modafinil Schedule 4
Any medication classified as Schedule 4 is considered as having the potential for addiction or abuse. That's where the Australian government decided to place modafinil. That decision, however, is arguably not completely right.
Theoretically, modafinil binds to many of the same brain receptors as cocaine (7) which, no one will argue, is a highly addictive substance.
But, the devil is in the details. In practice, modafinil's mechanism of action is quite a bit different from cocaine.
There are virtually no cases of modafinil addiction recorded. The few that have been reported are considered rare and uncommon events (8).
There is precedence of the Australian government being too heavy-handed in its classification of some substances. Take, for example, the 2015 TGA ban of kava, which has since been reversed.
Modafinil simply isn't addictive in a way most people interpret the word, and its classification as Schedule 4 seems a bit harsh. But, that's where things currently stand, and the situation won't likely change anytime soon.
Shipping Modafinil to Australia
Because modafinil is a Schedule 4 substance in Australia, it's illegal to buy it in the country without a prescription. Importing, however, is a different story.
The TGA has guidelines on which medication can't be imported into Australia. Similarly, the Office of Drug Control has a list of controlled substances which need special permission to be brought in from abroad.
Neither organization mentions modafinil. It is, therefore, not illegal to ship modafinil to Australia from another country for personal use.
What the TGA does mention is that any prescription medication bought online needs to include a copy of the prescription with the shipment.
If a shipment fails to do so and is inspected at the border, it will not be cleared to enter the country until a prescription is submitted. This brings up the next point.
Modafinil and Australian Customs
The vast majority of medications imported into Australia enter the country without issues, including modafinil bought online.
It's not practical for Australian customs to inspect every package that comes across the border. Screenings happen on a random basis.
In the off chance that a modafinil shipment is inspected, much more often than not, border officials do not request a prescription be presented. They tend to focus on preventing entry of substances which are illegal to possess, and modafinil is legal to own.
So, what happens if customs do end up requesting a prescription? You can safely ignore it.
If a prescription is not presented, after some time has passed, the shipment will just be destroyed, and no further action will be taken by the border authorities.
Having your modafinil package destroyed may not sound like a great outcome. But, as long as you buy your product from a reputable source (several of which are listed a bit further down this page), you have nothing to worry about.
All good modafinil vendors will back your purchase with a free re-shipment guarantee precisely for rare cases like this.
How to Get Modafinil in Australia
There are two legal ways of getting modafinil in Australia.
If you have a doctor's prescription, you can buy it at your local pharmacy. While you get immediate access to the medication, the downside of going this route is cost.
Pharmacies sell brand name versions, and though not any better from their generic counterparts, brand name versions come at premium prices.
The most popular way of getting modafinil in Australia is to buy it online. You don't need a prescription to do so. Also, because you're getting a generic version of the medication, the cost is many times lower than what you see at pharmacies.
Getting a Modafinil Prescription in Australia
Unless you're genuinely suffering from a condition which warrants it, getting a prescription for modafinil in Australia is not the easiest of things. It basically involves some convincing lying to your doctor. That's something anyone on this site recommends you do.
Claiming narcolepsy, the most common disorders for which Australian doctors prescribe modafinil, likely won't work. Narcolepsy is a condition where you randomly fall asleep during the day and usually do so with no warning. As you can imagine, faking narcolepsy would be very difficult.
Convincing your doctor you suffer from work shift sleep disorder is easier. You may still need to jump through a few hoops, like undergoing a day-time sleep study. There is also no guarantee the doctor will prescribe modafinil (they may opt for another treatment). But, this option is viable.
That said, lying to your doctor is generally not a good idea and (again) not something this site recommends you do.
Besides, there is a much easier legal way of getting modafinil in Australia that doesn't require a prescription. You can buy it online.
Where to Buy Modafinil Online in Australia
There are three great online sources to buy modafinil in Australia.
All three are well-established companies that have been in business for many years. All offer high-quality products, fast shipping to Australia, and reliable customer service.
Buying modafinil from any these vendors is pretty much as easy (and affordable) as it gets.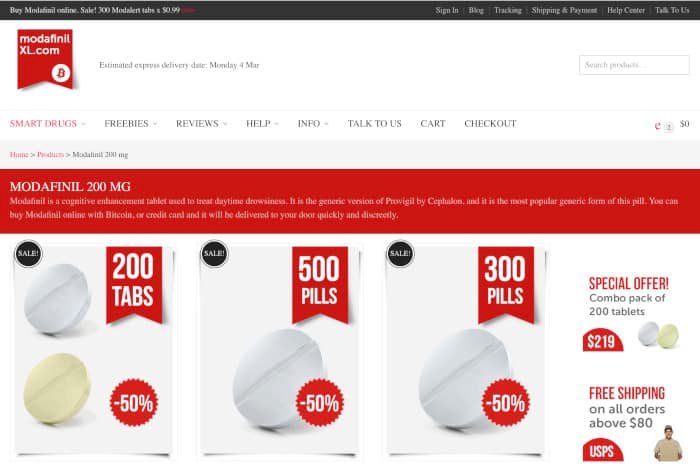 One of the best modafinil sellers no matter where in the world you are, ModafinilXL is also an excellent choice if you live in Australia.
Prices are some of the best around.
In a show of confidence in the quality of their product, ModafinilXL is also the only vendor that offers free samples. You can try ten modafinil and ten armodafinil pills at no cost to figure out which works better for you before purchasing more.
Orders ship out within two hours and take between 7 and 14 days to reach any Australian address (and typically closer to 7).
ModafinilXL backs every order with a free re-shipment or full refund guarantee, in case anything happens to the package along the way. You can also get a full refund if, for whatever reason, you are not satisfied with what you get (again, a show of confidence in the product).
Payment can be made via Visa, Mastercard, American Express, PayPal or Bitcoin (and other cryptocurrencies, too). And, if you opt for Bitcoin, you get a 20% discount on your order.
With every order, you also get a $25 coupon for future purchases. So, assuming you're paying with Bitcoin and combining the two offers, your second order of $100 will only cost you $40. That's a deal that's hard to beat.
Service, product quality, and price (especially with the discounts) don't get much better than at ModafinilXL. This is arguably the best modafinil vendor for Australians.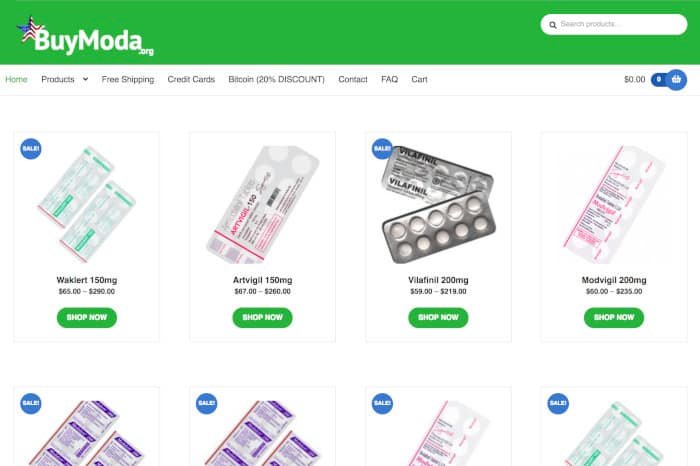 Though slightly newer than the other modafinil vendors listed here, BuyModa is doing everything right to win over clients from their more established competitors.
It all starts with the best customer service in the business, which includes fast e-mail support and 24/7 chat. If you have any questions, day or night, someone will be there for you.
Pricing is very competitive, and all orders ship out within 24 business hours of being placed. Shipping to Australia is free, and you will be emailed a tracking number once your package is on its way.
The estimated delivery time to Australia is a quick 6 to 14 days, and all orders are guaranteed to get there. If for any reason yours doesn't, you can request a free re-shipment or get a complete refund.
You're able to pay with any major credit card as well as Bitcoin.
Using the latter gives you a hefty 20% off your order. If you spend more than $99, you also get 30 free pills as a bonus. Returning customers get an additional 20% off too.
When you stack all three deals (which you can do), that's some incredible value.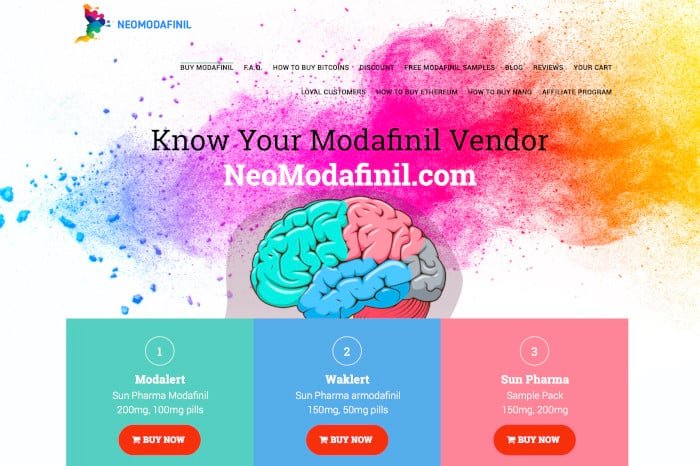 Though NeoModafinl has only been around for a few years, they've quickly become a favorite modafinil vendor of many Australians. No, they're not quite as popular as ModafinilXL and BuyModa – yet, at least – but do make an excellent alternative.
NeoModafinil prices are a nudge above BuyModa's – in other words, extremely affordable and competitive with the other two sellers listed on this page.
Shipping to Australia is free, and tracking is included. Orders go out within 24 hours and should arrive 7 to 11 days later.
All orders are, of course, guaranteed to reach your doorstep. If yours is lost or seized along the way, expect a full refund or a free re-ship – your choice.
Mastercard, Visa, and Amex are all accepted forms of payment, as are the cryptocurrencies Bitcoin, Ethereum, and Nano. You get 20% off for paying with any of the latter and a further 10% off as a returning customer.
No, these discounts are not at the same level as what ModafinilXL or BuyModa offer. But, they will still save you a lot of money.
Summary
Modafinil is an excellent cognitive enhancer that anyone, from the ever sleep-deprived student to the hard-working professional, can benefit from.
It is completely legal to own and use in Australia, though it does require a prescription if you wish to buy it locally.
If you're unable to get a prescription or aren't willing to pay high pharmacy prices, you can also buy modafinil in Australia online.
As long as you order from a good source and are doing so for personal use (to keep things on the right side of the law), you'll get to enjoy everything this powerful drug offers, at less than a tenth of the price.
References
Dongsoo Kim. Practical Use and Risk of Modafinil, a Novel Waking Drug. Environ Health Toxicol. 2012; 27: e2012007.
Davies M, Wilton L, Shakir S. Safety profile of modafinil across a range of prescribing indications, including off-label use, in a primary care setting in England: results of a modified prescription-event monitoring study. Drug Saf. 2013 Apr; 36(4): 237-46.
Deroche-Gamonet V, et al. Study of the addictive potential of modafinil in naive and cocaine-experienced rats. Psychopharmacology (Berl). 2002 Jun; 161(4): 387-95.
Vivien C Abad, Christian Guilleminault. New developments in the management of narcolepsy. Nat Sci Sleep. 2017; 9: 39–57.
Milton K. Erman, et al. Modafinil for Excessive Sleepiness Associated With Chronic Shift Work Sleep Disorder: Effects on Patient Functioning and Health-Related Quality of Life. Prim Care Companion J Clin Psychiatry. 2007; 9(3): 188–194.
Chapman JL, et al. Modafinil/armodafinil in obstructive sleep apnoea: a systematic review and meta-analysis. Eur Respir J. 2016 May; 47(5): 1420-8.
Dackis CA, et al. Modafinil and cocaine: a double-blind, placebo-controlled drug interaction study. Drug Alcohol Depend. 2003 May 1; 70(1): 29-37.
Krishnan R, Chary KV. A rare case modafinil dependence. J Pharmacol Pharmacother. 2015 Jan-Mar; 6(1): 49–50.